My 2015 VST Plug-Ins Choices Every Mixing Engineer/Record Producer Should Know About and Try
Note: Some of my choices below weren't actually released in 2015, however, I still consider those to be the best I have heard/used.
12) JJP Vocals
Every time I get stuck and can't seem to get the vocals quite right, this is my secret weapon. I don' t generally have problems with my vocals strips; 90% of the time, I use my go-to plug-ins (see below) , but this channel can be a lifesaver when you need it.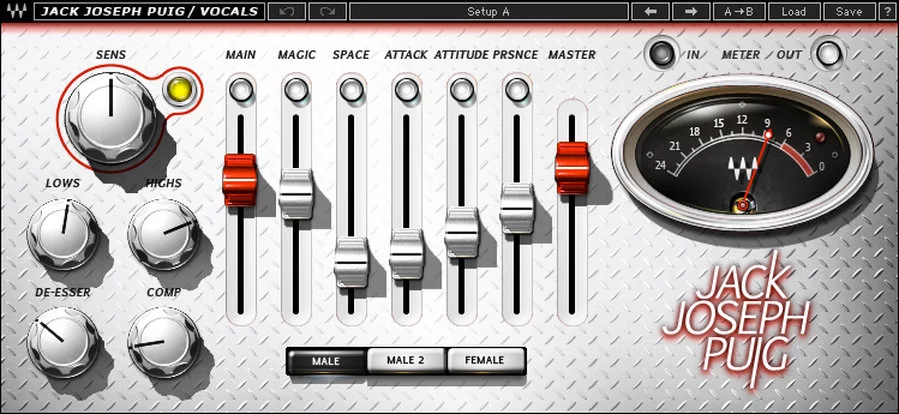 11) DrMs
This is a great stereo widener plug-in. Though it has too many options, even for me, you can use the presets and hear that this plug-in offers a unique way of opening up the channel stereo image.
This EQ is very versatile and is used mostly when you want to take out or boost frequencies. You wouldn't usually use it for coloration or when you want to add a certain feel to the sound. It's used when you need to do frequency-specific surgery. I find it to be the easiest one to work with and it has some really cool features.
The TG12345 is an old channel strip emulation. I won't bore you with the history of the analog version – this channel has a unique high mid and high end sound and nicely colors the sound with a lot of harsh saturation (in a good way). You can change the order of the components which is useful, and it has a nice stereo imaging knob, as well as, a distortion knob.
This reverb plug-in is pretty old, but, honestly, it's one of the best-sounding reverbs ever created and I don't think it got the attention it deserves. It is a very versatile reverb, it might even has too many options , but I find the first preset when the plug-in opens to be a great showcase of what this reverb offers. The downside is that it's pretty expensive… the way SSL likes it.
7) Cubase's old Quadrafuzz
Not sure why I stick to this distortion plug-in, but I really like its harshness and EQ, and its overall sound.
I use it mostly for special effects e.g. as an FX send to add presence and solidness to the sound. Cubase unfortunately discontinued this plug-in a long time ago, so I copy the DLL from system to system.  If you want tips on how to get a hold of the plug-in, however, feel free to contact me.

6) Maserati GRP Group Processor
I usually use this one on a drum bus as it has a cool snap to it. I wish it had a mix button, but you can always use it on an FX send if needed. Every once in a while, I use this plug-in on a vocals group to add to the mix presence.
5) Slate Digital VBC & UAD Shadow Hills Master Bus Compressors
I remember a time when no master bus compressor sounded good. Plug-in creators have since figured out how to make plug-ins sound authentic and convincing. These days, we actually have  too many options.
I've tested most available master bus compressors and I find VBC and SH to provide the best results. To be clear, these 2 options are VERY different from each other, but both are VERY versatile in the sound they can achieve.
If I should pick one, it would be VBC, since you get 3 compressors  for the price of one and they have mix buttons on each one which really helps while mixing.  I'm the type of guy that believes every plug-in should have a mix button.
4) Izotope 6
Izotope 6 marked the first time I truly felt a song could be mastered without the need of any analog add-ons. You might still need to add some other EQs/compressors/exciters/to the chain to achieve a fully realized level of greatness, however, Izotope, with the help of some other plugins, can get you  loud/open/fat results if you know how to use it.  The downside is that it's not easy to use.
3) 1176 Collection by UAD
These are my go-to compressors, especially the REV A. We all know the 76 emulations and how important they are for mixing. UAD has done a fantastic job achieving a great sounding 76 with this new series.
Again, UAD has been able to deliver great sounding emulations, and, again, this is my go-to EQ when I want to paint something. Some say it makes the punch go away which is why I don't generally use it on drums,  but for everything else.  I really think UAD should drop their prices… 🙂
1) U -He Satin
I never cared much for U-He previously, but Satin was a game changer in the tape emulations world. You can actually use it on each and every channel and, 90% of the time, it will add greatness if you know how to tweak it. Please don't use it one every channel… I know I said you can, but I definitely don't recommend it .
Satin has so many cool options, emulations, and colors, I recommend each and every one of you takes the time to play with the demo version. It's my number one choice for a reason…
I hope this list helps you improve your sound – it's a list made based on a lifetime of experience in A/B testing.